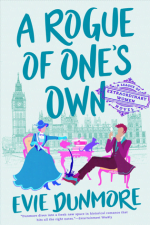 Review
Thank you to the publisher for an advanced copy of this book in exchange for an honest review.
I read this book in one day. I have no regrets because it was absolutely fan-freaking-tastic.
One of the worst things about getting an ARC is the wait for the next book in the series. I mean, I loved Bringing Down the Duke when I read it, and I was so thrilled when I was approved for an ARC for this book, and it was a joy to come back into this amazing world Dunmore has created. Based in history, Dunmore crafts a story that keeps you on the edge of your seat but also laughing and cheering the characters on. There is something to be said for books like this – that bring entertainment and good cheer to your day.
This is a book that is so delightful and wonderfully written. It is so easy to fall into reading, there is a cadence to the writing that draws you in and leaves you wanting more. I sat down to read it in the morning, then had to go to work, so I was anxiously waiting for lunch so that I could finish the last few chapters. I was on pins and needles wanting to see what happened to Tristan and Lucie.
I love a good enemies to lovers romance, and Dunmore has slaked my appetite for it, as it is done so beautifully in this book. So fabulously done that it was a seamless transition from one to the next, and I didn't feel that it was jarring at all.
Another thing I really loved is this book still revolved around the central theme of the suffragist movement, and Lucie's part in that. We have previous characters making appearances as well, but this story is very much focused on Lucie and her life. There is so little I can say because this book left me breathless and wanting to read it again it was so good. Like I said, I will be eagerly awaiting the next book in the series as WOW Dunmore stuns.
While the plot itself is fairly simplistic, it is done in a way that you can't help but appreciate. You may know what is going to happen but it doesn't make it any less exciting or breathtaking to read the story and see how small things unfold.
The characters were likeable to a great extent. You felt for Lucie and you felt for Tristan. And you felt for their individual struggles and how their struggles made it hard for them to know each other. Then you have some fantastic moments of build up and ire between them. All in all, I loved the chaotic nature of their relationship. It made it wonderful to read.
Of course then you have parts of the book where you want to grind your teeth because the "bad guys" are doing bad guy things. And it's very much a "NOOOO" moment in the book, but you KNOW they're going to get their happily ever afters…anyways my heart was pounding in this book, and it left such a sweet aftertaste that I'm still sighing thinking about this lovely book.