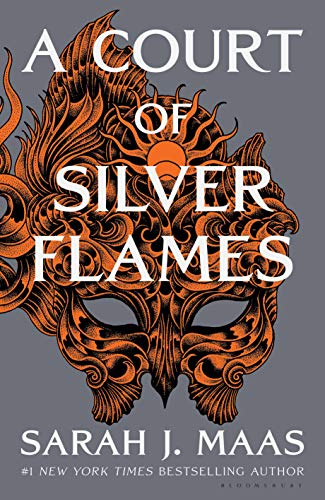 Review
Brief Thoughts
Yes, me. I am certainly having trouble deciding what to rate this book. Because overall my emotional journey on this was AHHHHHHHHHHHHHHHHHHHHHHHHHHHHHHHHHHHHHHH. That was me pretty much the whole way through the entire book. I don't know if I had a coherent thought at all other than… I don't know a few things that bugged me in the book. But they weren't the main focus of the book…so I suppose that's why I rated it so high. I got very emotionally invested in this book from the very beginning, and because I was, I think that's why this has ended up with this rating.
Writing
Okay so, I want to start off with the writing. I am pleased because I feel like SJM has improved as a writer with this book. And the steamy scenes were a little more bearable in this one. Ahahaha. Hah. Anyways, what I also really liked was that this book was written in third person. I felt that worked so much better for this series overall. Especially as we flit between both Nesta's viewpoint and Cassian's. I will say despite being 700 some odd pages long, unlike House of Earth and Blood I felt there wasn't too much annoying information. But perhaps that is because this was a known world.
Pacing
Pacing in this book I thought was excellent. I pretty much breezed through it because I was 100% addicted. No other comments at this time.
Plot
Now let's talk about the plot…what plot? Okay, yes, there was a plot, but I really thought it would play a larger part in this book! And it didn't. I don't necessarily think that is a bad thing, but I was just surprised. The plot lends itself to Nesta's own mental and physical journey which I enjoyed. And I think that was the main part of the book: the romance. I really think the plot was a side story. And to be honest, the original trilogy, I felt that it was more of an even balance, where this one was more character/romance driven. Just felt totally different, and yet, still highly enjoyable. But considering some of the hints that were dropped in this book, I have to wonder what is coming next. Clearly something is gearing up, but I don't know what that will be.
Characters
Character wise I never hated Nesta. I liked her fine but this book made me love her. And Cassian even more. I loved the two of them and how they interacted together. And I felt Nesta's story was a really powerful one, especially as a mental health journey. I loved her new friends. They made this book so much better. I will say I have always loved SJM's friendships and this one was no exception. It felt so grounded and beautiful and I can honestly say I want more of those three together.
Also love Nesta and her powers. That whole part of the book was really excellent, I am curious about some of the decisions made re: Nesta's powers.
Cassian and Azriel were everything in this book. They were beyond hilarious and every time they were in the same scene I was practically gasping with laughter. It helped to lighten up the darker parts of this story.
Cassian and Rhys were…interesting. I'm just disappointed we didn't get as much of the three interacting together as I would have wanted.
I'm going to quickly go over the Inner Circle, there are general thoughts but not really spoilers.
I will admit the Inner Circle and their prejudices and attitudes in this made me mad. They gave Feyre all these outs in the same series, but not Nesta? They needed to lose the attitudes in this book. I think SJM did it (especially the Feysand issues) because there was a need for angst. My other thought was that was how Nesta was viewing them: how she believed they thought of her. So it was a little hard to tell what the truth was. All I know is I didn't like the attitudes. To me it felt so off from the original series. I don't know why. This part is why I am struggling to give it a total five stars.
Final Thoughts
Overall, I really loved this book. Nesta may be my favorite Archeron sister now! Or at least tied with Feyre. All I know is I'm excited to see what comes next.
CW/TW:
depression, suicidal thoughts, sexual abuse and assault, blood, violence, murder, birth complications, death