Well, well, well. I haven't done a wrap up since March. Oops. But promise, I had a good reason. I've been just so busy with life! And reading. Also I sometimes forget I have a blog. I'll try and be better. I'm sure you're curious about how my month was, right?
It was a good month overall. I've found myself gravitating to more adult fiction, especially my KU subscription. I've also apparently been giving out less five stars and more three stars…weird.
Anyways, the books I read were:
books I read in July 2021
The Burning God
Curse of the Specter Queen
The Traitor Queen
Daughter of Sparta
Tithe
Valiant
Ironside
For the Wolf
Any Way the Wind Blows
Zodiac Academy 1-6
Gild
Glint
Gleam
House of Hollow
Of Wolves and Wardens
Fire with Fire
Gods & Monsters
Birthday
Girl
Six Crimson Cranes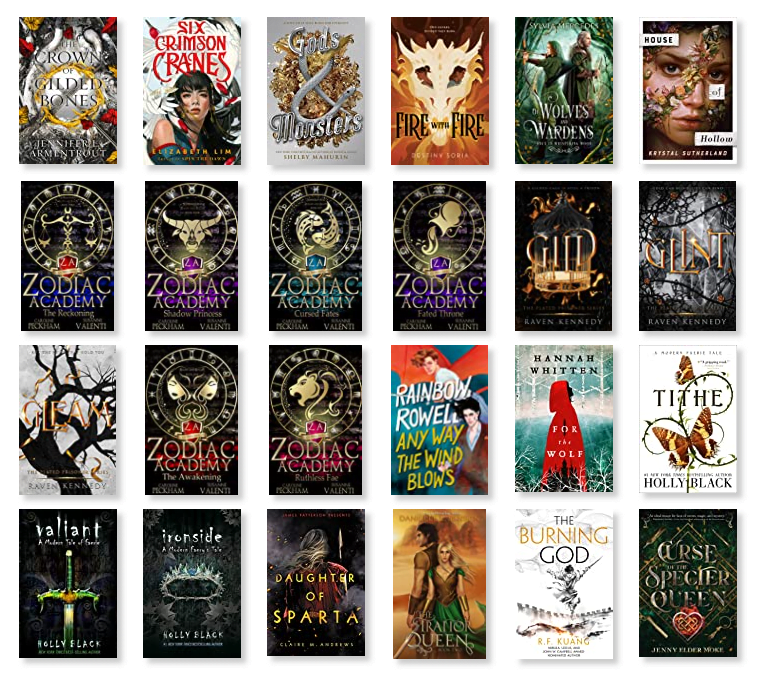 my top reads
My top reads of the month include Any Way the Wind Blows, Daughter of Sparta, Gild, Glint, Gleam, Curse of the Specter Queen, The Crown of Gilded Bones, Gods & Monsters.
I enjoyed most of the rest. Really, I had a good month with enjoyable books which is SUCH a nice change. Sometimes I get a lot of bad books and I don't really enjoy them which is unfortunate.
the bad
Really, the only one I really didn't enjoy was Of Wolves and Wardens.
Although The Modern Faerie Tales were okay, I gave them three stars, but that was on the bottom. I didn't love them as much as I wish I did. And Zodiac Academy was decent. I don't know whether I'll continue reading that series or not.
overall
Overall, I think I had a good month. Not sure what I will be reading next month, however!