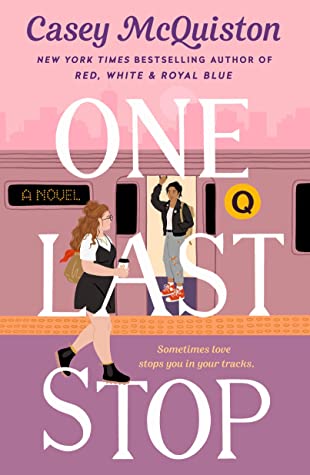 Review
Thank you to Netgalley and the publisher for an advanced copy in exchange for an honest review.
It took me some time to evaluate how I felt about this book. When I read Red, White and Royal Blue it was at the right time, right place. I can't articulate what resonated about it with me. I had hoped that One Last Stop would follow in those footsteps. This book also encompassed things I liked – more so than RWRB, so why did I like this one less than RWRB? My only conclusion is that I felt RWRB had more heart than OLS did. For me, personally at least. I really wanted to be like 10000/5 stars, but unfortunately, for me, that isn't the case.
Let me make it very clear this book is still fabulous and a lot of people will love it but I think overall it had some issues because I feel RWRB was a lot to beat. Now that I've said that, there are some things that this book does that RWRB did as well, and did splendidly. As always, there is a lot of diversity in this series. It feels like McQuiston is really trying to reach the largest audience and most diverse one. So points for that. I think that they accomplish this very well. We've got Asian characters, Black characters, trans characters, queer characters and I do believe August is fat, so fat characters as well.
Pacing
I think my biggest issue with this book is the pacing. The pacing was driving me up the wall. I love a good slow paced character driven book. And this I think was supposed to be that. Unfortunately, some of it was a bit repetitive and boring at points. Usually you're supposed to see character progression and we don't really get that until the very end. I really think the pacing of this book is what made me love it a little bit less.
Characters
I did enjoy the characters. I like that August feels real. She was relatable to me in many ways, and I think she was the perfect character for the story to focus on and around. We get to see her POV more than anyone else's and it is her story that drives the book. But as I said previously, at times it feels like the pacing doesn't work and we're not getting any progression which doesn't help August's character at all. I know August is supposed to be bi, and as a bi person and fat, I love her for it. I just wish…I'm not sure what else I wanted from her. But I feel that it is missing something for me.
The side characters were lovely too. I like how they all interacted and their stories that we get briefly. I especially liked how it all came together in the end. I'm not sure I could pick a favorite side character.
I very much enjoyed the relationship between Jane and August. I think the romance was well developed and absolutely adorable. As a note for people, this book does have explicit steamy scenes. So…yes. 😏
Moving on…
Plot
The plot. Granted, I only half read the description. Saw the author the cover, heard f/f meet cute essentially and was sold. I did not realize how much of a supernatural or paranormal element there was going to be in here. That was a lovely surprise because I love those elements in any story. I like how it was introduced too. I think that was so well done, that if you hadn't know it had a supernatural element your jaw would drop. Mine did.
I think the only downside also is that it feels like there was so much going on in this book. Lots of little subplots supposed to be connecting to the next, and while I generally felt it was well done, I did feel that at points it was almost too much trying to juggle.
Last Thoughts
But overall, I think this book was absolutely amazing, and people are going to LOVE it. This is a sweet paranormal rom-com meet cute book, and it is going to appeal to a lot of people.
CW: mentions of death, anxiety, homophobia, racism, and blood.