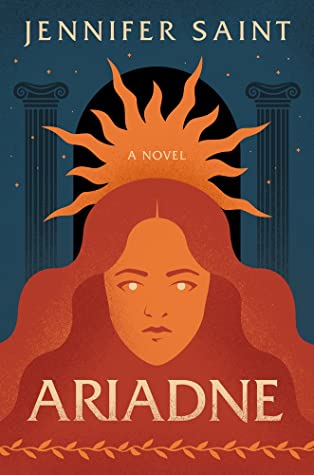 Review
Overview
Thank you to Netgalley and Flatiron Books for an advanced copy in exchange for an honest review.
This book was high on my list of books that I wanted to read. I'm a huge fan of Greek Mythology, especially new and different takes on what we think we know about it. Madeline Miller's Circe was excellent because we got to see the myth's from a woman's perspective, not that of the men who take up about 90% of the mythology. When we do get women in myth they are usually evil or temptresses or some other variety of a woman who is considered bad or wrong. Much like Circe, Ariadne takes the myth as we know it and turns it into a powerful look at sexism and empowerment.
Writing

This book was a delight to read on so many levels. Saint's writing is excruciatingly beautiful and I fell in love with it from the very beginning. There is something so powerful about this writing, and I felt it in my bones as I was reading this novel. It is very prose filled with some dialogue, but the prose is powerful. Much of the dialogue focuses on stories and the myths that we've all come to know. One interesting thing is how Saint manages to loop in the other myths and explains how the relate to Ariadne. While the book is titled Ariadne, her sister Phaedra, has some chapters from her perspective as well.


Plot
The plot of the book revolves around Ariadne and her family. The choices she makes from helping Theseus and the Labyrinth to after. The book was very detailed in its plot. It stuck to the general feeling of the original myth but elaborates and adds perspective from Ariadne. The plot is almost backseat to Ariadne and her own power.

Characters
One thing I loved about this book is we know so little about the women in the myth. Saint has had to create and invent a personality and overall general character for Ariadne. Like many other women in Greek myth she lacks character. The goddesses have a little more, but here we see how powerful Saint is because her characterization is so lovely. From the moment you meet the women in this book you can see what positions they're in, and how they have to fight. This book shows how women are manipulated for men's purposes. Saint did it so wonderfully and it was well done – I cannot express how much I enjoyed it.
Pacing
The pacing of this book is slow. It doesn't meander, but it definitely has a purpose to the slowness. And it is helped by the fact we flip between what action there is in the book.

Last Thoughts
Elaborating from myth and real Greece, Saint creates a world and captures the imagination of mythic Greece. The palace of Knossos is vivid in the imagination, and when you look at pictures it is easy to envision Ariadne and her sister there.
This book was just stunningly beautiful on so many levels and I absolutely feel in love with it. It left me breathless and engaged. I can't put into words how much I adored this book.