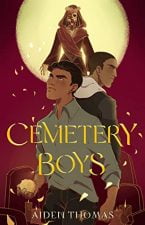 Review
Thank you to Swoon Reads and NetGalley for an advanced copy of this book in exchange for an honest review!
First off there were a whole bunch of things I loved about this book. We get Yadriel who is an amazing character. He has such a sweetness to him that I adore and you really want all the best for him. Julian too is a great character. One thing I felt is I liked the characters more individually than I did together. One of my issues was the romance just didn't work for me completely. There isn't one thing I could put my finger on. But I loved them each on their own and felt it worked really well. Not to say the romance want cute, it was. I like insta romances but I felt that this one kind of fell a bit flat compared to all the other moving parts in this book. I suppose I wanted more of it? Just a minor thing I would have liked.
I think the world building is stunning! There is so much to love about it. I really enjoyed getting to know the different aspects of the world and how magic was explained. I loved those portions and I love how culture was worked in through the book. It all felt very cohesive and just…I loved it. I loved every minute of when we were getting Yadrial being a brujo I loved how he dealt with the issues of culture and being trans. It all worked so well within the novel and was done brilliantly. This is one of the best parts of the book!
I think my main issues were the pacing and writing. The pacing is where I struggled intensely because I felt there were portions I just didn't love. The pacing felt a little less cohesive than I would have liked, and it made some sections a bit awkward for my personal tastes. And while the writing is good, I did think it could have been a bit better. Those are both me things though! In the long run I think the writing was good, and that while I didn't like portions of the pacing it didn't take away that much from the book. Which is why it is a solid 4 star rating from me!
The plot of this book (and the bad guy) was pretty obvious, but that really didn't bother me at all. It's not a bad thing to have guessed the plot and it didn't take away from the overall enjoyable reading experience. The plot was well done and I think it tied in well with many of the issues presented in the book. We have both action plot and character plot pushing the story forward.
Overall, I felt that this was an excellent book and one that I will definitely being recommending to everyone! I think this is going to be one of those enduring books that people will want to continually go back to and enjoy immensely.
Also be sure to check out some of the #OwnVoices reviews as well – they'll have insight into the culture as well as the trans experience that I don't have!