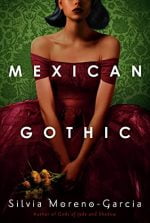 Review
First off, I have heard nothing but good things about this book. And I was really excited to read it despite not loving The Beautiful Ones. I loved the writing in that book, and I felt that this book would give me everything I could want. Suffice to say, this book should be on everyone's lists who likes scary stories, gothic horror, or just a good paranormal mystery. There is so much to love about this book, and from the first few pages I was enthralled with it. There was nothing else except this book when I was reading. I finished it late in the night because it was so good that I could not put it down.
Our fearless heroine (who is absolutely delightful) finds herself in a creepy house with creepy people and it doesn't get much better from there. She went to rescue her cousin, Catalina, but nothing is as it seems, and something is off…and this book was the perfect book to ring in spooky season with. It wasn't a gory (or descriptive gory) book, so I was glad, because that I do not do totally well with. This book however was full of suspense, partially because we were very much learning as Noemí does.
Noemí, as I said, is a delightful character. She is very stubborn, and very true to herself. She is also determined to do right, and is aware that something is not right. This story really was a complicated one, and as you read there are little pieces of the past doled out and you're trying to figure out what is going on, and how it all connects. It was very much my type of book. The plot of it was stupendous and I cannot speak about it without wanting to shove it at everyone. It had such a great impact, and kept me turning pages.
And that's the thing – the pacing was amazing. You were almost wary as you turned pages, unsure of what was going to happen next…never quite sure what to believe, and you are held captive by this book and the story that is being woven.
Other things I loved was how atmospheric it was. It would send shivers down my spine, and it was creepy. And that's in part thanks to the characters themselves. The characters were chilling. You never knew who was good and who was bad, who was real and who was not.
I am so thrilled with this book, because the writing is just so fantastic, and the book was absolutely amazing. I cannot speak well enough about it. This is one of those books that I would purchase for myself and recommend to friends that it left such an impact on me.
A great gothic horror story set in 1950's Mexico – it had everything it needed to succeed. What a great book!