No matter what type of reader you are, you generally have a spot (or a few) that you love reading in more than most. Sometimes, like me, you can pretty much read anywhere your heart desires. Standing, upside down, working out (okay, I tried that and got motion sickness…blech 🤢), on your back, on your stomach and so on and so forth.
Even if you can do that, there may be a spot you retreat to to enjoy your books. Mine happens to be a corner of my room. Since my entire book collection is in my bedroom, I don't have much space for anything else. I love my little book nook, it gives me comfort to look at it…if only I used it.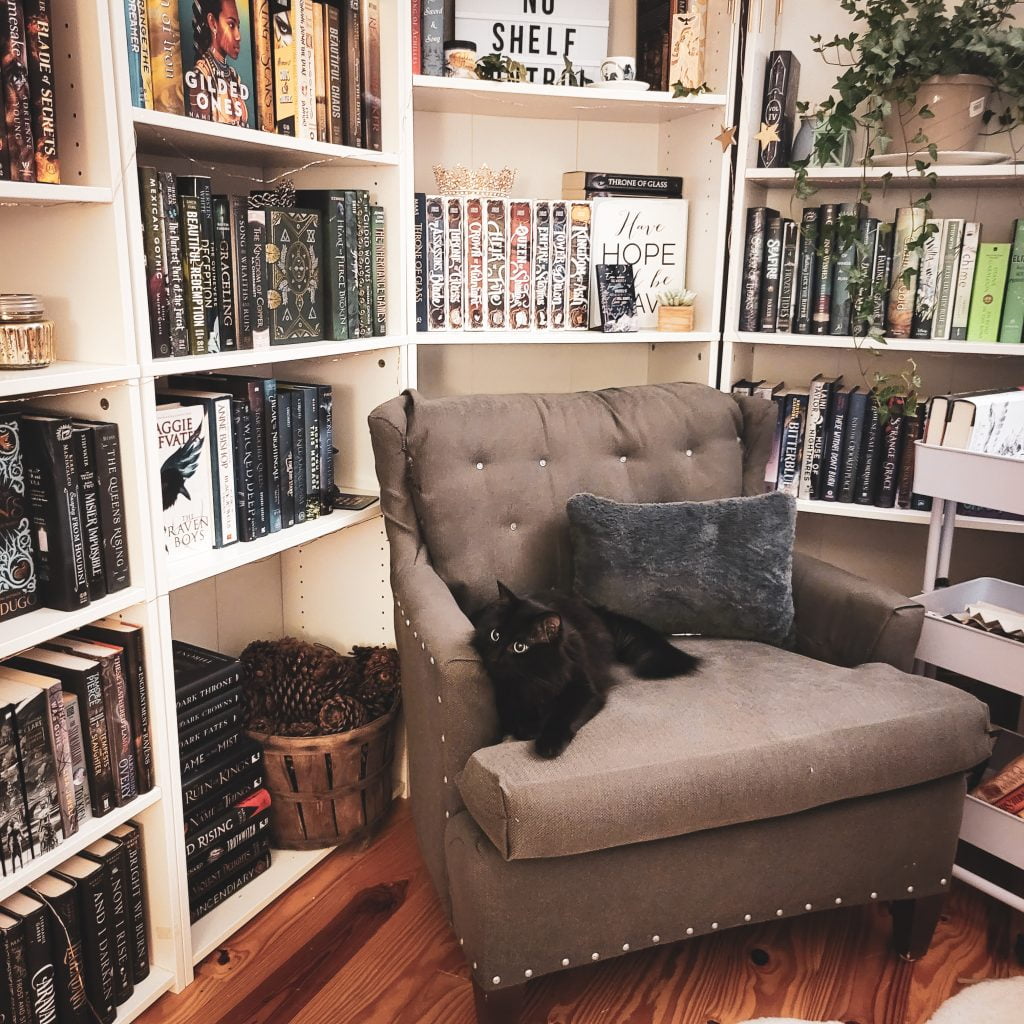 I think Circe gets more use out of it than I do. She certainly likes to claw on the chair. I'd set this up so I could sit in my room and read and not kill my back in my bed (hahahaha) but somehow my chair always ends up occupied with several things:
My clothes. Clean and dirty both seem to get dumped into that chair.
Books…I drop books on it!
Bookstagram props tend to go here as well…
I've yet to find a perfect solution to the fact I never get to use my chair because I'm so busy filling it with other things. Sometimes my depression makes it hard to focus and keep things picked up, but I try because it really is comfortable to read in. Last winter I sipped tea or hot chocolate in that chair. It was so pleasant! I'd like to go back to that.
I also have my little TBR cart next to the side. It makes a good place to stash all my extraneous things. I also have a fuzzy rug which I and Circe both love.
Things I hope to add to it in the future include:
a little chandelier so I can read at night. Right now I don't really have a good lamp to read with…so then I end up in my bed again!
an ottoman to prop my feet up on. have yet to find one I love.
For those of you who have book nooks, how do you utilize them? Do you find you have trouble keeping them clean? What do you like or not like about them? What accents are must haves?