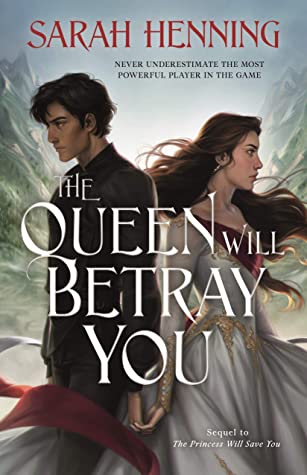 Review
The sequel to The Princess Will Save You was good. It wasn't anything like I expected it to be, however. I thought for sure that this was a duology but the way it ended made me think that it is going to be a series. Anyways, I'm not sure if I liked it more or less than the first book. As I said previously it was very different than what I was expecting. While this book did have some adventure like the first, this one was more political intrigue than anything else. So don't go into this expecting a lot of action. It just isn't there the same way that it was in the first.
I do enjoy Henning's writing, and it held up very well in this book. Henning is always able to compose a cohesive narrative that ties everything in together. Some of the moments and dialogue that were written were obviously inspired from The Princess Bride as well as some other books, but I think that it worked in the long run here. Despite all that, I think that there is a lot to be said for a book which manages to balance dialogue and prose in even amounts like Henning does.
The world building in this book didn't expand too much. We get to know about a few other kingdoms that are tied in, and through that we also get glimpses of the past. It works well overall as it sets the stage for what happens in this book. My personal preference maybe would have to divided it into parts and put the past section at the beginning. But in the end it doesn't really matter where it ended up in the book, as it served its purpose.
The characters in this book are almost all the same as last time with a few surprising additions to the cast. To say anymore would be spoilers. But for those looking for romance in this book you won't find much. Ama and Luca are separated for most of this book, each with their own missions and quests. They meet once or twice, but overall their page time together is probably less than one hundred pages. To go along with that we have several different third person POV chapters, from Luca, Ama and a few new characters. Thankfully as it is in third person it is easy to tell whose POV we're in. I enjoyed both Luca and Ama's story, although I didn't like one part of Ama's all that much.
The plot in this as I said, was very political intrigue based. Lots of things happening, lots of plot twists and turns that you don't expect. In the last book you knew who was good and bad. In this book that isn't nearly as easy to decipher. In other words, don't trust anyone. I like how the first part of the story in book one carried over through this one all the way until the end. I think that was a well done overarching plot. The rest of this plot still remains similar to book one in fighting for the throne(s). Ama is still fighting for hers, and Ines is trying to get hers. And this spills over into this book, and that's where things start to get complicated.
The pacing in this I think was fine. I don't think there was anything wrong with it, but it was slower paced than the first because of the aforementioned political intrigue. It was a well done pacing too, because you wanted to get to the next page and find out the ending of the book.
Overall, I think this was a good book!