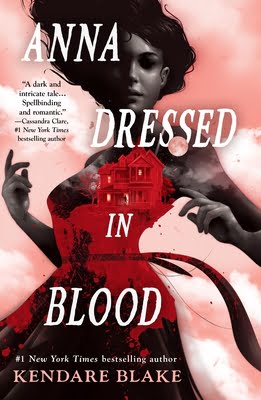 Series: Anna Dressed in Blood #1
Genre: Horror
Age: YA
Notes: death of an animal
Thank you to Tor Teen for a finished copy of this book!
I read this a few years ago, and I honestly didn't remember much about it. When I started rereading it I vaguely remembered some of the characters, but it was mostly a new experience for me.
This book is a dark and spooky read, perfect for the autumn time. The main conflict revolves around Cas and his past as well as Anna and her past, and Blake juxtaposes the two of them together. It definitely feels more modern horror movie like, with a cast of teens who are trying to solve the mystery of what happened to Anna.
In some ways it feels a bit like Supernatural or Buffy, both of which, I loved. It has an atmosphere and a darkness to it, and parts of it gave me chills. The whole opening chapter was absolutely fantastic, it drew me into the book.
Blake's pacing of the book also worked well for the plot, because we get a couple of tense moments in the book, especially towards the lead up to the end. That definitely gave the book more tension.
It was a great story, and I really liked it, to me it harkened back to the feel of an old school ghost murder mystery.
Plus, there was an epic afterwards that took place ten years after the book that Blake wrote for this new publication. I loved seeing what they would be up to ten years later. And I think it fits very well.
TW: death of an animal