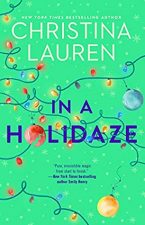 Review
Thank you to the publisher for an advanced copy of this book in exchange for an honest review.
Christina Lauren has been hit and miss for me quite a bit. There are some books of theirs I enjoy more than others, but this book really knocked it out of the park to me. This one was superbly well done and I am still thinking about it days later, so I know it's a good book when that happens to me. What can I say about this book other than sing its praises? Not much because the experience of reading this book was lovely.
The writing was excellent. I was drawn in and I can't think of a bad word to say about this book's writing. It flowed, it was beautiful and I was engrossed the whole time.
I love Mae. Mae was a great character and I think my favorite of Lauren's that they're written. There was something about her that felt so welcoming and I can't put my finger on it. But I also liked all the other characters. There was not a single one that I hated in the entire book, and I think it made the book better for me. So yes, the characters were one of my favorite parts. The characters and their interactions were some of my favorites here.


The book is pretty much a "relive the day over and over again" except not so overdone in those regards. It was minimal, but it worked well and I think that sometimes books who do that miss the mark. I read one recently and it felt very boring. Yet, this book did it in a way that engaged me and kept me reading on. I think it's partially because when she relives the day it's not always all the same. I appreciated that.
This book touches on the holiday season, and so generally it is pretty joyful and humorous which I loved. I don't love a lot of angst in my books, so I was pleased that this had very minimal angst overall. It was a character driven book, so the angst was mostly around that. It worked perfectly for me.
The romance gets its own section in this review, because it had me squealing, laughing and giggling through the whole book and it may just be my favorite part of it. There was something so wonderful and spine tingling about it.
This is going to be a book I reread over and over again because I enjoyed it so much.