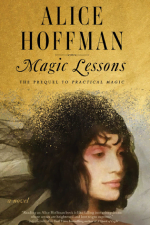 Review
Thank you to the publisher for an advanced copy of this book in exchange for an honest review.
Let me preface this by saying I have never read Practical Magic or its sequel. In fact, I have heard of them, but never read them. I will be reading them at some point, as this book was amazing! I really liked it, and I think it was quite emotional at some points.
There are animal deaths in this book, just as a forewarning for anyone who might read it, so just be prepared if those things are upsetting to you.
Anyways, this book was so well done, and I am eager to share my thoughts with you on it.

I can't remember having read an Alice Hoffman book before. My mother loves her works, and this is what decided me about this book. The writing was absolutely stunning. It was well written and I was engrossed in the book from the beginning to the end. There was something about how the prose was crafted. I was surprised at the fact that although this book was filled with prose, and what felt like little dialogue, that this did not make the book slow or boring. In fact it lent some sort of atmosphere to the book overall. And this book had quite a bit of atmosphere.
Then you have the characters in this book, Maria being the main one, although other characters come and go as needed. Maria was a lovely character, as were many of the women characters. I hesitate to say too much in those regards because so much of the character development in this book is a spoiler. Suffice to say, Maria's journey was amazing and was depicted so emotionally. Also, it felt very vibrant. Poignant. You also had men in the book, and they served dual purposes. While you don't have to know much about the witch trials overall, having some knowledge helps put this book into context.
Now, the plot. The plot is another one of those large spoiler issues. The plot is very much driven around Maria and her action or inaction. It is character driven largely, more so than action. There is some "action" throughout the book, but overall, it is mostly about the characters and their struggles.
I think this book is rife with important themes, and is done subtly throughout the whole book. You get portions where you're so engrossed in this book and you don't want to stop reading it. It is an absolutely delightful book in those respects.
As I said, I was drawn in from the start and I think that this book captures something emotional and hard to explain. It was marvelous and I highly recommend it.