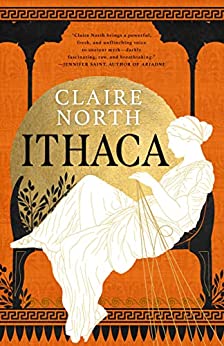 Series: The Songs of Penelope #1
Genre: Historical, Fantasy, Mythology, Retelling
Age: Adult
Notes:
First off, thank you to Orbit/Redhook for a finished copy of this book!
Greek myth from the POV of women is something I adore, but sometimes it gets bogged down in a sort of way that doesn't always work, but Claire North does something different — she tells the story of Penelope as Queen of Ithaca from Hera's point of view. We often see Hera as a goddess of spite, but in this book we see her as one of love, and passion and sadness for the women who pray to her.
In this book I loved Hera and hated Athena — but I also hated the gods for what they did. I thought North did a superb job with how she had the women subtly influencing the events on Ithaca, that they weren't just wall paintings or sculptures, but they were living, breathing and had minds of their own.
What I loved was the tone this book was written in, it was at times hilarious and delightful, irreverent in a way, but it was also desperately sad, because we know how all the myths end, we know, but in a way we hope it won't end the same.
I adored this book on so many levels, and it really had me gripped. I loved the writing, I loved the plot, because honestly it was something different than I usually see in Greek Mythology.
Overall, it was a brilliant retelling of Penelope's story from a goddess we don't usually hear from. In other words: absolutely divine.